FSU Football snares the biggest win of Mike Norvell's tenure
CHAPEL HILL, N.C. — Well, I didn't see that one coming.
I'm guessing you didn't either
A 1-4 team, which happened to be an 18-point underdog, going on the road and beating a team that started the season ranked in the Top 10 in the country.
I'm nowhere near ready to call what happened here on Saturday a turning point for the Florida State football program. But it sure seems like, at the very least, the hydroplaning has stopped. And there seems to be real traction again.
Don't miss out on any of our great FSU Football coverage. Get your 30-day FREE trial!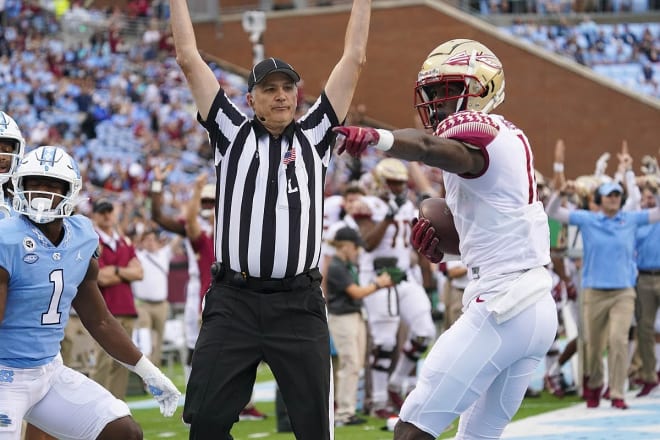 First came the second half against Louisville. Then came the close win over Syracuse.
And on Saturday came the best victory of the Mike Norvell Era to date, a commanding 35-25 win over Mack Brown's Tar Heels in Chapel Hill.
"These guys, the way that they're investing, the things they're pouring into this program, I'm so very proud of them," Norvell said. "And I think we got better tonight."
They've gotten better each of the past three weeks.
That's what has been so much fun to see.
Going through a losing season is one thing, going through a losing season with no hope is quite another. And the way Jordan Travis and the offense played Saturday, I feel like there was real hope in what we saw from the Seminoles.
Dare I point out Travis was the best quarterback on the field in this game? Sam Howell has had a terrific career and could make a fine NFL QB one day, but ol' Jordan Travis is now 2-0 against the former FSU commit.
So, as painful as it was that Howell wound up starring somewhere else, that's a pretty nice consolation prize for Seminole fans. And these past two weeks might be proof, real proof, that this Florida State program is on solid footing.
We certainly feel better about things than we did seven days ago.
With four minutes left last week against Syracuse, an 0-6 record heading into the bye week seemed like a distinct probability for this football team.
Then the Seminoles' much-maligned defense got a stop. And Travis directed a last-minute drive that culminated with Ryan Fitzgerald's game-winning kick.
And then came this Saturday. Down 10-0 early in the second quarter, Travis ripped off a ridiculous 53-yard touchdown run, and it was as if the floodgates opened. The Seminoles only punted twice the rest of the way, and both of those came on fourth-and-1s.
I don't know if it's what Travis is doing at QB, or just the confidence that comes with a win, but the Florida State players went out on Saturday and made the types of game-changing plays you just have to make to pull off an upset.
The plays they weren't making in September.
Jarrian Jones, who gave up a long TD pass early against Wake Forest, made a leaping interception in the end zone on a 50-50 ball to North Carolina's best receiver.
"They just tried me on the go ball," Jones said. "They just threw it up and I was there. I just trusted my training and made the play."
So did Keyshawn Helton. The same guy who dropped a wide-open TD pass against Jacksonville State caught a 44-yarder on Saturday on a ball that was underthrown. He also made two third-down catches to keep scoring drives alive, including a toe-tapping thing of beauty on third-and-12 in the third quarter.
"The margins are so small," Norvell said. "It's a game of inches. … Being able to extend himself and make that catch on third-and-12. That was huge. And those things showed up throughout the game."
Absolutely they did.
Players making plays.
Whether it was that fourth-down stop late in the game against Howell and UNC's offense or that fantastic pinball run by Treshaun Ward to wrap up the game later in the fourth quarter, those are the plays that win football games.
Maybe they're the plays that help turn a season and a program around?
We're not there yet. We're going to have to see more than 2 1/2 decent games in a row to know for sure that Florida State is indeed on its way back.
But Saturday sure was a great day for Norvell. And Jordan Travis, who got to cut out the sod and take it back to Tallahassee.
If Travis can stay healthy, the Seminoles might just have themselves a legitimate offense that can make more noise the rest of the season. And there might be more games like the one we got to watch on Saturday.
Norvell is certainly hoping that's the case.
"I really believe this is a new team," he said. "In every aspect, they're just trying to push and improve in who they are and what they're about.
"And they do believe."
Do you?
Do I?
Still too early. But man, that was a great win.
A couple more like that one in the next month or two, and this team and coaching staff might just make believers out of all of us before the year is done.